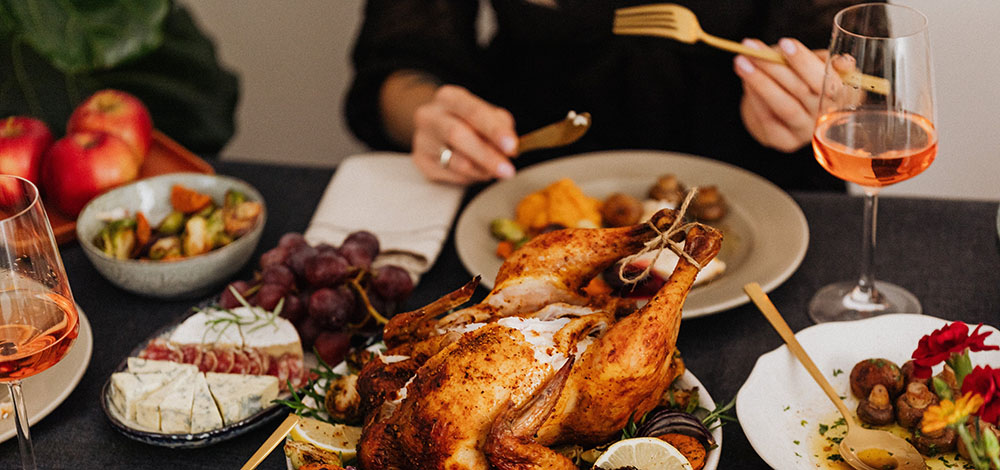 Can you believe that it's almost Thanksgiving? The big day jam-packed with turkey, mashed potatoes, green beans, and many more staples is finally just around the corner. These foods are delicious on their own, but there's one thing that makes them even better – cannabis.
Cannabis improves everything, so as long as you either 1.) keep your cannabis-infused food away from the rest of the menu or 2.) make sure your guests are cool to get high off your food, there's no reason why you should skip out on weed this holiday.
Before We Get Started…
Before we get to the cannabis-infused recipes for Thanksgiving foods, we have some important information to share, especially if this is your first time cooking with cannabis.
Firstly, before you infuse your cannabis into butter or oil, you need to decarb it. When you decarboxylate your cannabis, it allows the THCA (a nonreactive cannabinoid) to convert into THC. When you smoke cannabis, the heat takes care of this process and you don't have to worry about doing it yourself. But if you don't decarb your cannabis before you cook with it, you'll just consume the THCA instead of the THC, which will make for poor taste and a weak high — or no high at all.
Decarb your cannabis easily by lining it up on a baking sheet covered with parchment paper and baking it at 425 degrees for 30-40 minutes, checking it every 10 minutes to make sure it's baking evenly. After that, let it cool and you have cannabis that's ready to be infused into oil or butter.
Note: if you're working with tinctures you don't have to worry about this process. The cannabis serum is already made for you!
Secondly, we highly recommend testing the strength of your strain before you infuse it into something. Everyone's preference and tolerance is different, and it's good to know what you're working with before you turn your Thanksgiving feast into one big edible. To test it, just cook something with your infused butter/oil a few days beforehand and try it for yourself. That way, you have time to adjust (if you need to) before the big day comes.
Your Essential Cannabis Thanksgiving Recipes
We've gone over the basics. Let's get into these recipes!
Cannabutter
What you'll need:
1 cup butter
1 cup (7-10 grams) decarbed cannabis
1 cup water
What to do:
Place your water and your butter into a saucepan/stockpot with your burner on low, and heat the mixture until it's combined. Add the ground cannabis (with the burner still on low), stir it, and let the mixture simmer for 2-3 hours. Stir occasionally without letting it come to a full boil.
After 2-3 hours, remove the pan/pot from heat and strain the cannabis buds from the mixture using a fine mesh strainer. Press the buds into the strainer to make sure you're squeezing all the butter from them that you can.
Let the cannabutter come down to room temperature, then enjoy! You can also put it in the refrigerator or freeze to save it for later use.
Thanksgiving Turkey
Making a canna-turkey for the holiday is just as simple as cooking a regular one – or not so simple, if cooking the bird doesn't come easily to you.
All you have to do to make the special turkey is use any recipe that calls for butter during the basting process and substitute some (or all) of it with cannabutter. Make sure to get the marinade both on top of the turkey skin and under it for ultimate moisture (and ultimate effects)!
Mac and Cheese
What you'll need:
1 tablespoon cannabutter
1 pound pasta (shape of your choice)
2 cups whole milk
¼ cup chicken stock
¼ cup all-purpose flour
1 cup sharp cheddar shredded cheese
1 cup smoked gouda shredded cheese
2 oz goat cheese
Salt, onion powder, black pepper, and garlic powder to taste
What to do:
Preheat the oven to 340 degrees and boil a large pot of salted water, then cook the pasta for the allotted al dente time as the oven is heating up. (Even if you're not a fan of the al dente texture, remember that the pasta will continue to cook when you put it in the oven later.) Combine the chicken stock and milk in a measuring cup.
Melt the cannabutter in a medium-sized saucepan and continue to stir so it doesn't burn. Mix in the flour a bit at a time until a paste forms, then add the milk/broth mixture until it's creamy.
Mix in the cheese while continuing to stir, creating a smooth blend as everything melts together. Add the salt, onion powder, black pepper, and garlic powder to your liking and keep stirring well.
Lower the heat and let the sauce simmer, still stirring occasionally. It will soon start to bubble and look thick – once that happens, remove it from the heat.
Drain the pasta, then pour it back into the pot. Mix ¾ of the cheese sauce in with the pasta, then transfer it to a greased baking dish. Pour the remaining cheese sauce over the top of it, then bake for another 15 minutes.
Creamy Mashed Potatoes
What you'll need:
2 pounds Yukon gold potatoes
½ cup whole milk
½ cup heavy cream
8 cloves garlic (crushed)
5 tablespoons unsalted regular butter, cubed and cold
3 tablespoons cannabutter, cubed and cold
2 teaspoons salt
Black pepper to taste
What to do:
Peel your potatoes and cut them into 1-inch cubes, then add them to a large pot and submerge them in cold water. Over high heat, bring them to a boil, then reduce the heat and let them simmer for 12 minutes.
Then, combine milk, heavy cream, and garlic in a small saucepan and bring to a simmer over low heat. Once the simmering starts, remove the saucepan from the heat and strain the mixture to remove chunks of garlic.
After the potatoes have simmered for 12 minutes, remove them from the heat and drain them, then transfer the dry potatoes back into the pot. Mash them with a potato masher, then add the cubed butter, cubed cannabutter, and salt, then stir to combine it all.
Gradually add the cream mixture to the potatoes a little at a time until it's fully incorporated, then add black pepper to taste.
Cranberry Sauce
What you'll need:
12 oz fresh cranberries
¾ cup sugar
1 tablespoon orange zest
½ cup freshly squeezed orange juice
1 cinnamon stick
1 tablespoon cannabutter
What to do:
Rinse your cranberries well, then place them in a heavy-bottomed saucepan with sugar, orange zest, orange juice, and a cinnamon stick, then stir well. Place the pan over medium heat and cover with a lid, then cook for 15 minutes. Stir every 5 minutes or so to make sure the sauce doesn't stick to the bottom of the pan.
Remove the pan from heat and take out the cinnamon stick, then add the cannabutter and stir until it's fully melted and combined with the sauce. Allow the mixture to come down to room temperature, then serve.
Pumpkin Pie
What you'll need:
1 8 oz package of softened cream cheese
2 cups canned, mashed pumpkin
1 cup sugar
¼ teaspoon salt
1 egg, 2 egg yolks, slightly beaten
1 cup half and half
2 tablespoons melted regular butter
2 tablespoons melted cannabutter
1 teaspoon vanilla extract
½ teaspoon ground cinnamon
1 pre-made pie dough
Whipped cream as topping
What to do:
Preheat your oven to 350 degrees. Then, place your pie dough in a 9-inch pie pan and press along the bottom and sides to ensure a good fit. You can crimp the edges to make a custom pie crust pattern if you'd like, then place it in the freeze for 1 hour.
Remove the pie crust from the freezer and completely cover the shell with a piece of aluminum foil. Fill the shell with pie weights (or dried beans/uncooked rice if you don't have pie weights) and bake for 10 minutes. Take it out of the oven, remove the weights and aluminum foil, then bake for another 10 minutes until the crust has dried and is beginning to turn golden brown.
As your pie crust bakes, make the filling. Beat the cream cheese with a hand mixer in a large mixing bowl, then add the pumpkin and beat until it's combined. Add the sugar and salt after that, beat until they're combined, then add the egg, egg yolks, half and half, melted butter, and melted cannabutter, then beat until it's all mixed together. Finally, add your cinnamon and vanilla and beat one last time.
Pour your pie filling into the prepared pie crust, then bake for 50 minutes or until the center of the pie has set (you'll be able to stab a fork/toothpick into it and have it come out clean). Let the pie cool to room temperature, then top it with whipped cream and serve.
Whipped Cream
If you want even your whipped cream to be infused with cannabis, you can make it happen. You don't need cannabutter with already-decarbed cannabis – instead, the cannabis goes through the decarbing process as it heats up during the making of this recipe.
What you'll need:
½ gram marijuana flower
1 cup heavy whipping cream
Extra cream to top it off
What to do:
Add your cream to a small pot, then break your marijuana up into small pieces (break it, don't grind it) and add it to the cream. Slowly heat the mixture while stirring occasionally. Once it starts to boil, turn the heat down to low and cover the pot partially. Continue to steep the marijuana in the cream for about 20 minutes, stirring once in a while.
After 20 minutes have passed, take the pot off the heat and strain the cream into a different container, then let it cool. Add more cream to the infused cream (replacing what evaporated), to make a full cup, then pour it into a mixer and mix until it reaches your desired fluffy consistency.
Happy Thanksgiving, From Lake Effect!
At Lake Effect, we want you to have the best Thanksgiving possible – and, with cannabis, you're sure to have a happy holiday.
Grab your cannabis supplies before the big day comes and remember that you can always reach out to us with any questions, especially if this is your first holiday cooking with cannabis.
Photo credit: Karolina Grabowska