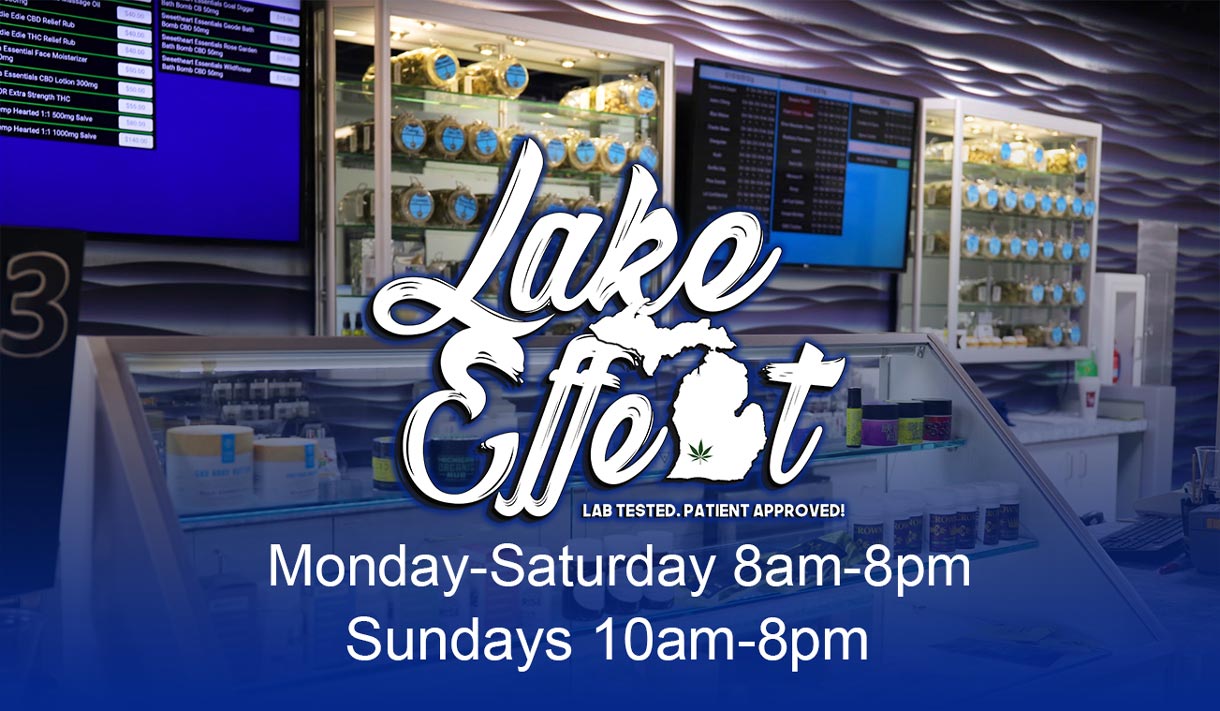 THE BEST LAB TESTED MEDS IN THE STATE
Information About
Purity and Testing
Clean, Safe, and Accurate Every Time
Every single product we offer has been lab tested by The Spott Laboratories (Voted the "Best Laboratory in the State") right here in Kalamazoo. Most members of our staff stay in constant communication with the lab. Feel free to ask any questions you may have. Check them out at MiSpott.com.
A Personal Experience
Patient Consultations
We offer a face to face and personal experience every time! Whether you are a first time patient or connoisseur, you will leave Lake Effect with new found knowledge, friendship, and the tools needed to tackle your ailment. We look forward to helping you achieve your goals TODAY!
Making it Easier
Now Offering Call Ahead Service
You may reach us during business hours at (269) 459-8488
You can find us on Leafly where we were ranked fifth in the State of Michigan for the month of November, 2016. Since 2016, Lake Effect has continued to make "Leafly's Top Ten" multiple times. Check out our menu or leave a review while you are there!
Weedmaps is also a great place to find our menu as they offer cannabinoid percentages input directly from the lab. We are honored to be one of the few places that Weedmaps acknowledges for having lab tested meds.  Do yourself a favor and click "Lab Tested" at the top right of your map when looking for help!
PORTAGE, Mich. — Political leaders are comparing the coronavirus disease 2019, or COVID-19, pandemic to the United States fighting a war. To borrow that analogy, for medical marijuana businesses, it is a two-front war. Full Article
PORTAGE, Mich. — Three West Michigan businesses that sell recreational marijuana have been awarded the ability to make home deliveries. Full Article
Medical Marijuana patients no longer have to wait in lines for medications (WWMT, 5/16/19) Lake Effect in Portage will deliver patients that have medical marijuana card, up to 2.5 ounces of flower buds or edibles a